Of course, I would never leave my Malaysia out of this because this time, it's my list of 10 MUST visit attractions in Malaysia! Known as a multi-cultural country and newly industrialized market economy, Malaysia never runs out of amazing attractions too.
1) Tioman Island
Located in the state of Pahang, Tioman Island recently became one of the recipients of the world's top 10 beautiful island. With the soft tropical breeze and clear blue water, this island is tourists' favorite spot for snorkelling and scuba diving. The island is filled with beautiful chorals and a variety of sea creatures. Having said that, Tioman Island has its own marine park, where visitors can swim with the sea creatures and enjoy the adventures.
2) Jonker Walk, Melaka
Located in the heart of Melaka, Jalan Hang Jebat or Jonker Walk is the place where artifacts and antique collections can be found, not to mention delicious food from Melaka itself. Such delicacies like asam laksa, chicken rice balls can be found in the streets of Jonker. Don't miss out the gorgeous-looking antiques when you arrive in the historical city of Melaka!
3) Lost World of Tambun, Ipoh
When we have Sunway Lagoon in Kuala Lumpur, we also have Lost World of Tambun in Ipoh! From the same developer, Tambun offers much more outdoor activities and water parks. Aside from enjoying the heat of rainforest, visitors also get to enjoy a little sight-seeing as the place is located around the misty hills. When most amusement parks close before night time, Tambun still opens until 9pm in the hot springs section.
4) Batu Ferringhi, Penang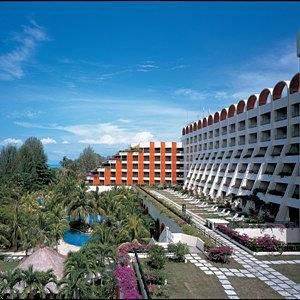 Batu Ferringhi is a beach area in Penang, where night markets, luxurious hotels, and souvenir stores are featured. The night market in Ferringhi is popular amongst the tourists and is often filled with so many of them at night. Adrenaline junkies can definitely try para-sailing at the beach.
5) Pengkalan Kubur, Kelantan
Hearing the name for the first time, many people have mistaken it for a cemetery but no, Pengkalan Kubur is a duty-free place where clothes, shoes, bags and kitchen utensils can be found. Similar to another duty-free place called Rantau Panjang, Pengkalan Kubur is located next to the estuary of Golok River. With that said, this place is also a border town on the Malaysia-Thailand border. Across the river, we can see the Tak Bai town. Heading to Pengkalan Kubur, you can also enjoy an unbelievable sight-seeing of the Sleeping Buddha, located in Tumpat.